Finally, daytime TV gives us a full on gay kiss. We already had lesbians kissing several times over on All My Children and ABC also has a gay character on General Hospital, but it was CBS and As The World Turns that has become the first daytime soap to feature a gay kiss.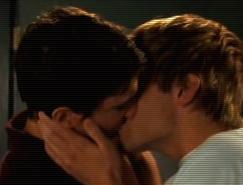 And what a kiss it was. It wasn't a simple little quick peck it was a full on "I-want-you" kind of kiss.
The storyline continues so if you missed it you will hopefully have an opportunity for more. So check out As The World Turns for more drama of the Luke and Noah variety and get yourself hooked on Nuke.
AsTheWorldTurns.net has a few archived video clips one of which shows Luke and Noah being caught by Noah's father in the middle of one of those passionate kisses.
Brought to you by As The World Turns
Tell the World About This Post