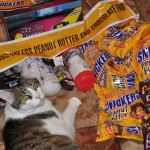 A little before Halloween I heard about a great promotion that SheSpeaks.com was having for Snickers. So I quickly applied to be a part of it, telling them how much I love Halloween (it is my Christmas).
I little while later I was told I had been chosen to be one of the Snickers "Coolest House on the Block" participants.
So cool! The package of goodies arrived about a week before Halloween. Boris helped me inventory everything we got (especially the candy — probably because it sounded a little like his treat bags as I was pulling them out of the box).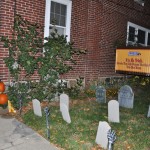 Next up was to decorate the house. Being city folk we don't like to have the house decorated too early, just to cut down on the possibility of vandals. However, SheSpeaks.com needed photos posted by a certain time showing the decorations in place.
So I went about building a cemetery out front and hung the HUGE Snickers banner behind it. This was placed right where all the Trick-or-Treaters would see it as they came up our front steps.) The banner reads, "It's No Trick. Here's the only house where you can get this new treat."
Glad I did not completely decorate as we had some really windy days leading up to Sunday's Halloween night. So I added the finishing touches to the decorations Sunday afternoon. Unfortunately the mini fog machine Snickers sent did not work out as it was still too windy. All the fog blew away in seconds. But the strobe light really made the cemetery creepy.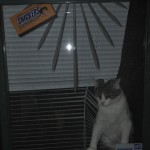 I heard quite a few parents reading the banner aloud as I handed out the candy to their kids and even a few came over and asked for some for themselves as well.
Boris was getting rather upset about being left inside the house when all the excitement was outside.
Here's a gallery of Trick-or-Treaters from the evening. This is only a small sampling as I gave out all of the candy and it was quite busy at times. I also had some smaller ghosts & goblins that I chose not to post because of their tender young age. But boy were some of them adorable.
At the end of the evening there were two little furry Trick-or-Treaters. They unfortunately did not get any of the Snickers, but I still was able to give them some Halloween toys  (I should have had some Greenies on hand for them).
Boris also told all of his friends about how Halloween was on Snickers this year and what he was up to on Halloween night. (Warning: Boris' blog is written in kitteh speek.)
Tell the World About This Post