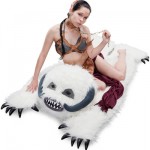 Call me crazy (hahaha very funny), but I love this Wampa Rug. It is an officially licensed Star Wars product made by ThinkGeek.com (gotta love those geeks).
I already have the TaunTaun sleeping bag (and I have to make a lightsaber noise every time I open it too). It keeps me toasty warm on those cold Hoth winter nights.
Apparently the slave girl is not included with the Wampa Rug, sorry fan boys.
Tell the World About This Post