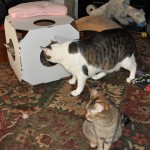 I little while back I got a few Catty Stacks to test out on my cats. I have to tell you I really liked them and the smaller cats did too, especially the two little foster kitties we had from One by One Cat Rescue.
The two fosters would run through the house and leap onto the Catty Stacks and start a game of tag, one on top and one inside the fort. They would hop from box to box thwokking each other through the openings
What I liked about the Catty Stacks is the fact that you can build and rebuild them in any configuration that you want, kind of like giant kitty LEGO bricks. If you get your cat some Catty Stacks you'll want to start out with at least 3, but don't worry when you realize how much they love them you can add to the construction at any time. That is another great feature of these boxes unlike other cat furniture.
Boris always loves to get in a box and will squeeze in any box no matter the size. So I had hoped he would like these as well, but it turns out he is just too big. He does like being on top checking out everything around him. So I think I wil rebuild these under a window so he has a nice bird watching perch.
Besides giving Boris a new window perch building the Catty Stacks up is a great way to give the other cats a weigh to be up high and not have them on top of the furniture or refrigerator!
Catty Stacks are available at CatToys.com, [amazon_link id="B005CI8M3W" target="_blank" ]Amazon.com[/amazon_link] and other fine pet stores. They come in five great colors to match any decor; [amazon_link id="B005CICXTQ" target="_blank" ]baby blue[/amazon_link], [amazon_link id="B005CIEROU" target="_blank" ]pink[/amazon_link], [amazon_link id="B005CIBJ8C" target="_blank" ]white[/amazon_link], [amazon_link id="B005CI8M3W" target="_blank" ]light green[/amazon_link] and [amazon_link id="B005CIAAR8″ target="_blank" ]brown[/amazon_link].
Disclosure: these boxes were sent to me by the manufacturer, but this has in no way affected my comments in any way shape or form. The above review is mine and mine alone.
Tell the World About This Post