If you haven't heard it before you will most likely hear about it shortly.
Sen. Rick Santorum has a problem with Google (well not just Google but all the search engines really, but apparently he uses and blames Google the most).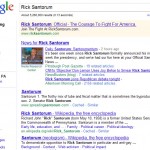 When you search for his name a nasty website tops the charts. This was a prank pulled on him back in 2003 but still gets relevant SEO rankings today.
If you want to know what the prank is simply read the search engines description of the site that pops up first (no not the paid ads which I assume is how Santorum's team is fighting back. Or better yet go the the wikipedia article  Santorum (neologism) – Wikipedia, the free encyclopedia
What does that mean for Rick Santorum? Not much really. He can't remove it and the more people link to it the higher the rankings will go (reason I don't link to it). But this will never go away — EVER.
Not that I am a fan of Santorum in any way shape or form. I just don't wish to propagate this type of trash.
Perhaps this is a lesson for everyone. Be careful out their because you don't want someone posting something nasty about you on the net.
Tell the World About This Post