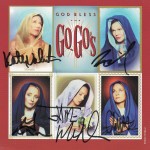 Being a child of the 80s the Go-Go's are a big deal to me. They were one of the first bands I really liked and I still like their music even if it isn't like all the other dark, gloomy, heavy stuff I usually listen too. The Go-Go's will remain a favorite band of mine. That being said, it is with extreme pleasure (and a little bit of jealousy as I would like to keep this) that get to give away this autographed CD insert from the Go-Go's signed by all five band members. This was given to me by band member Jane Wiedlin (you can also win signed copies of her Lady Robotika comic over at ScifiSlacker.com).
She donated these great prizes to help us raise money for One By One Cat Rescue during SCIFIpawty (a virtual science fiction convention my cat Boris holds every year).
So how do you go about entering our contest? Just answer the trivia question in the comments below and you are entered into our random drawing for this super awesome prize.
Want more chances to win? Donate to our charity using the same email address as the used to answer the question below and you'll get another entry for every $5 you donate.
Donate here: http://www.firstgiving.com/fundraiser/kelly-hoffman/boriskitty1×1
Answer this Question in the comments: Where was Jane on March 11th to 13th? (hint)
Fine Print: No purchase necessary, void where prohibited, odds of winning depends on number of entries. One entry per person, household, email address, etc. Contest ends 4/5/11.
Tell the World About This Post