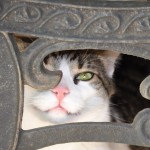 Boris was a rescue, but not your typical adoption. We actually adopted Boris before his furry little butt ever went to the humane society. We already had it in mind to adopt our next cat, but weren't ready to do it just yet when he showed up on our doorstep.  Quite literally. One of our neighbors brought this little three week old kitten over to us to see if we wanted him.
Had the little guy been taken to the humane society he would have been put down. Shelters just don't have the resources to hand feed and wean a kitten until it is old enough for adoption.
After my mom died I needed something to help me get through it. A distraction from the world. Boris answered the call.
One night Boris jumped up next to me on the sofa to check on me. He has a great way of knowing something is wrong and being there to take care of me.
That night I set about getting him a twitter account and some online pals (others who were up late at night tweeting as their pets). Turns out this was one of the best things I could have ever done. If it hadn't been for Boris keeping such a watchful eye on me during my grieving process and inspiring me to get online as him, I honestly don't know if I would be here today.
Our motto soon became "Who rescued Who? (I know the grammar's wrong but who cares?)
It wasn't long before Boris also took over the blog I started when we first got him and "we" were inspired by other anipal (animal friends) to help others as he has helped me. The blog changed names to BorisKitty.com – 4 Paws for a Cause. "We" started doing more to help the helpless animals out there that are less fortunate than Boris. I wanted to give back.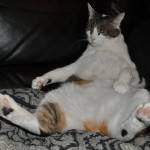 I started out small by taking needed items over to the Animal Rescue League or down to the Humane Society of Berks County. Then by starting to participate in the Walk for the Animals the HSBC holds each year (this year will be the 4th year for me).  I took a cue from another online anipal and started SCIFIpawty to raise money for rescues. Then I started volunteering down at the humane society and will be starting tomorrow volunteering at Petco with One by One Cat Rescue. (We won't mention that we are foster failures — having added three more cats to our feline family in the process.)
Doing even the smallest thing for these animals is just so rewarding. I love going in and socializing the cats (that's volunteer speak for playing with).
I honestly don't know where I would be or what I would be doing if I had not rescued that helpless little kitten that turned around and rescued me. I feel honored to be able to help out those animals in need. Thank you Boris you are my hero.
---
Want to read more about Boris' rescue story as well as many other inspiring cat tales? Check out the Happy Tails Book: [amazon_link id="0982696418″ target="_blank" ]Lost Souls: Found! Inspiring Stories About Cats[/amazon_link]
"This post is my entry into the BlogPaws Blog Carnival Contest
sponsored by BISSELL Homecare, Inc."
Tell the World About This Post