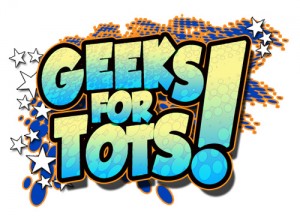 Win Toys For Helping Tots with Geeks for Tots!
Geeks for Tots is back once again to promote giving this holiday season. Geeks for Tots is a contest that encourages donations to the Toys for Tots.
There are far too many kids that won't get gifts this holiday season and the Toys for Tots program is here to help. Toys for Tots takes new toys and distributes them to kids in need. To encourage donations to the Toys For Tots program, the Geeks For Tots contest is offering prizes to those who send in proof of donations to Toys for Tots.
The Prizes up for grabs are:
To participate in the contest, a contestant has to either send in a picture of them donating at a Toys For Tots drop off box or by forwarding copy of a receipt from an online cash donation to the Toys For Tots website.
More details like where to send the photos and receipts, please visit GeeksForTots.com . And the official rules can be found here: http://www.geeksfortots.com/2012/11/how-to-win-geeks-for-tots.html)
Follow them on twitter: https://twitter.com/GeeksforTots
Like the on facebook: https://www.facebook.com/GeeksForTots
About Geeks for Tots:
Geeks for Tots is a grassroots contest started with the simple goal of encouraging donations to Toys for Tots via a contest. This is the fourth year of the contest. Previously it was known as "Joes for Tots."
For our donations this year check out these links…
Tell the World About This Post