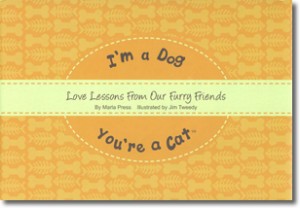 I really thought this book was just going to be another Men Are from Mars, Women Are from Venus book using stereotypical dogs are dumb, cats are distant types of statements. I was wrong (I know hard to believe me admitting that, huh). As a pet person I honestly did not want to like this book. I thought it would give bad images of cats and dogs by trying to lump them into human personality traits (and I am not very fond of some of them, but overall I enjoyed the book). It gives you a new way to look at relationships.
The book is less a battle of the sexes and more a merging of species. Very funny and insightful (reading the descriptions of dogs vs cats you can honestly say, "I'm like that" or "I know someone just like that"). Makes us think about ourselves, our partners, and our relationships.
Book Description
[amazon_link id="0983096813″ target="_blank" ]I'm a Dog, You're a Cat[/amazon_link] is a short, delightfully humorous book filled with beautiful watercolor illustrations that highlight the sometimes quirky personality traits of felines and canines and how they mirror those of humans, especially as it relates to their interpersonal relations. Dog and cat owners who are in relationships will understand and appreciate the correlations and conclusions drawn from this unique comparison. How wonderful it would be if we were able to discover a new insight that helped us all communicate more effectively with the special people in our life. This book will help you identify if you are hard-wired more like a cat or a dog and how to understand that dog or cat in your life. By using a little humor to gain a deeper appreciation of your partner, you can begin to understand their behavior and how to react in those instances when you just don't see eye to eye on things. Visit www.imadogyoureacat.com and take the quiz.
About the Author
Marla Press was born and raised in Rock Island, Illinois. She attended college at the University of Illinois, Champaign-Urbana and graduated with an undergraduate degree from the University of Texas-Austin. She has always had a great love of animals and has had many dogs and cats in her life (the four-legged kind). I'm a Dog, You're a Cat: Love Lessons From Our Furry Friends was created as she tried to understand a new relationship in her life-thus the idea for the book. She lives in Houston, Texas, with her two real rescue dogs, Riley and Bella.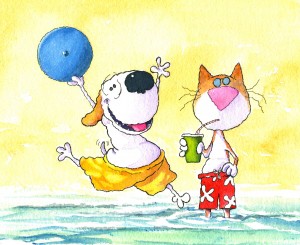 Tell the World About This Post