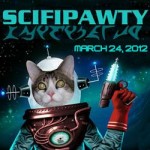 March is here which means Boris and I must really step up the pace and get our butts in gear if we want SCIFIpawty to be a big success.
This will be the third year for the world's only animal host animal attended virtual science fiction party held on twitter. (Humans are welcome but must speak kitteh or Klingon.)
For more information on SCIFIpawty check out SCIFIpawty.com, BorisKitty.com and follow us on twitter (@BorisKitty and @SCIFIpawty).
Just remember it is all fun and games being done for charity. Please be respectful. Thank you!
If you will be attending please RSVP at twtVite: http://twtvite.com/scifipawty2012/
Tell the World About This Post