With the new Batman Dark Knight Rises film coming out this summer, I really wanted to get a Batman costume this year for Halloween. Heck there is even still time to get one before the film hits the theaters if you wish to go to the midnight showing dressed as the Dark Knight.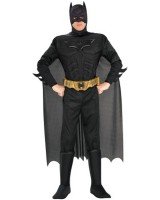 For a great selection of Batman costumes check out Costume Discounters. The have a great selection of Batman (classic), Batgirl and Dark Knight costumes.
I got the Dark Knight costume hoping it would actually fit me this year after having lost some weight. (Yay it did, mostly.) This costume includes everything you need to jump in your Batmobile and hit the convention, movie or party right out of the package. Costume comes complete with the iconic Batman cowl with attached cape, one piece costume, boot covers and utility belt.
All the adult costumes have a padded muscle chest piece, which looks nice but doesn't feel great wearing it. For women this can act as further disguise of who you are underneath that cowl, but the chest piece is rather broad across the shoulders and does not allow for easy moment. Idela if all you want to do is strike a superhero pose with shoulders back and hands on hips (like the photo). This is not a big deal if you are only going to be in it for a few hours at a party or the movies, but if you plan on spending all day at a comic con you might want to see about altering it.
The material is a light weight polyester (stretchy material) that makes the costume easy to get on and should not make you over heat too quickly. However, it is not too thin of a material that it would make you uncomfortable wearing it.
Some much needed accessories would be gauntlets (gloves) and Batarangs, but not necessary for a good Batman look.
I highly recommend that you take the costume out of the package long before you want to wear and reform the cowl and utility belt as they are not ready to go straight out of the box, so to speak.
This is an official DC Comics licensed Batman costume.
Disclosure: I was sent this Batman costume by Costume Discounters for this review. This in no way guides this review or my opinion of the products. All comments and remarks are my own.
Tell the World About This Post