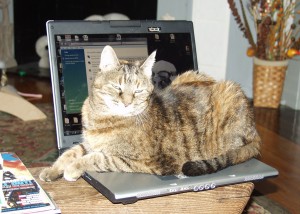 Ever come home to find your cat on your PC? I don't know why but mine have always been draw to it. Abby here always had to be on my lap or in this case on my laptop, whenever I worked on my computer.
But cats walking across a keyboard can actually be dangerous.
Not for the cat, but for the files on the PC.
I don't know how many times she turned off my wifi just by hitting the right combo of keys. She even closed programs making me lose the file I was working on.
In this photo you can see she has brought up the task screen. Who knows what could have been deleted or reset on my PC!
Thank goodness I never lost any vital files (like all my photos of my kitties) or I would have been heartbroken.
Surdoc has the solution (and not just for us cat owners either). Get 30 GB of free online backup & storage for all your important files. Just use the promo code: CATPROOF to get your fee 30GB of backup storage now.
Here is a handy infographic with tips on how to cat proof your PC.

Tell the World About This Post