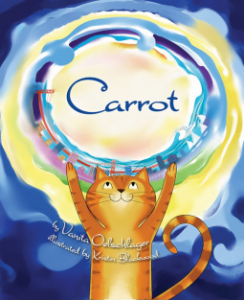 [amazon_link id="0981971490″ target="_blank" ]Carrot[/amazon_link] is written by Vanita Oelschlager and illustrated by Kristin Blackwood. Published by VanitaBooks LLC.
Dreams are okay, but sometimes reality is even better. Learn to accept what you have in your life through the eyes of an orange tabby cat named Carrot.
Cute kitty adventure illustrations are teamed up with a rhyming text that is sometimes well above a child's reach (but I guess that is what parents are for — to explain those big words like caviar, champagne and cotillion).
Book Description
A playful and rhythmic page-turner, Carrot the Cat learns that to like who you are is right where it's at. Carrot is a delightful story about a common house cat who finds that the grass is not always greener on the other side of the fence.
Tell the World About This Post