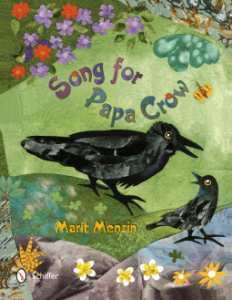 [amazon_link id="0764341316″ target="_blank" ]Song for Papa Crow[/amazon_link] is written and illustrated by Marit Menzin. Published by Schiffer Publishing.
This is a nicely illustrated story of self acceptance. Little crow wants to fit in and be liked but none of the song birds like his singing. After meeting a mockingbird that gave him a magic seed little crow could sing like any bird that he wanted. His father kept telling him to just be himself and to call whenever he wanted his father to come. So when little crow tried to all his father all his father heard were the calls of song birds. He did not know his son needed help.
Book Description
Little Crow loves to sing, and Papa Crow loves his song. But when Little Crow shares his crow songs with the other birds at the big old tree, they laugh and scatter. Maybe the Amazing Mockingbird can teach him to sing songs with the finches, flycatchers, and cardinals – and help him make some friends. But Little Crow should be careful what he wishes for… Using Mockingbird's tip, Little Crow quickly becomes the most popular bird on the block. But, in a moment of danger, he learns that singing someone else's song can have terrible consequences and that his own voice – and his father's love – is of the greatest value. Paired with colorful collage illustrations, this inspirational story is complemented by fun facts about North American birds and their sounds. . Grades Pre-K to 2. Marit Menzin's award-winning collages have been seen in galleries and magazines. She has loved art since childhood, and this, her first picture book, combines her love of nature and art. Marit lives with her family near Boston, Massachusetts.
Tell the World About This Post