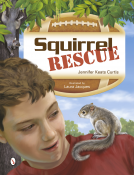 Squirrel Rescue is written by Jennifer Keats Curtis and illustrated by Laura Jaques. Published by Schiffer Publishing.
This is a fun little story of two boys that find and rescue a baby squirrel that has fallen out of its nest while the boys were outside playing a game.
Not only does this book show kindness to animals, but it teaches kids and adults how to responsibly treat wild animals.
Above all respect wild animals (they are wild after all).
Check out SquirrelsandMore.com
A portion of the book sales will be donated to squirrels and more fore wild animal rehabilitation.
Book Description
A baby squirrel that has fallen out of his nest suddenly interrupts a spring game of catch. Knowing what to do, the two boys demonstrate how to handle the furry mammal properly and what to do when they find the squirrel's sibling. Placing them safely in a box, the two boys retreat to the house so as not to scare the mother away while she recovers her babies. Once again, Jennifer Keats Curtis combines an exciting animal encounter with an ordinary childhood event to create a fascinating, realistic story about wildlife rescue. Laura Jacques' extraordinary illustrations perfectly capture the thrill and excitement of the boys and the animals. Grades K to 4.
About the Authors
Jennifer Keats Curtis is the author of several well-known children's books, including Saving Squeak: The Otter Tale; Osprey Adventure; Turtles in My Sandbox; and Baby Owl's Rescue. Award-winning illustrator Laura Jacques' wildlife books for children include: For the Birds; The Life of Roger Tory Peterson; Baby Owl's Rescue; and Whistling Wings.
Tell the World About This Post