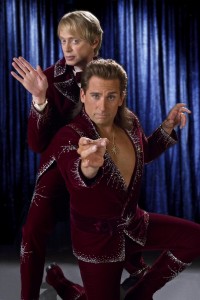 This movie looks pretty funny (heck with Steve Carell & Steve Buscemi it has to be, right).
Synopsis:  Superstar magicians Burt Wonderstone (Steve Carell) and Anton Marvelton (Steve Buscemi) have ruled the Las Vegas strip for years, raking in millions with illusions as big as Burt's growing ego. But lately the duo's greatest deception is their public friendship, while secretly they've grown to loathe each other. Facing cutthroat competition from guerilla street magician Steve Gray (Jim Carrey), whose cult following surges with each outrageous stunt, even their show looks stale. But there's still a chance Burt and Anton can save the act—both onstage and off—if Burt can get back in touch with what made him love magic in the first place.
Cast: Steve Carell, Steve Buscemi, Olivia Wilde, Alan Arkin, James Gandolfini, Jim Carrey, Jay Mohr, Michael Bully Herbig
Director: Don Scardino
Writers: Screenplay by Jonathan Goldstein & John Francis Daley
Story by Chad Kultgen & Tyler Mitchell and Jonathan Goldstein & John Francis Daley
Producers: Chris Bender, Steve Carell, Jake Weiner, Tyler Mitchell
Executive Producers: Diana Pokorny, Vance DeGeneres, Charlie Hartsock, J.C. Spink, Richard Brener, Walter Hamada, Dave Neustadter
Watch the trailer now.
Official Movie Website: http://www.theincredibleburtwonderstone.com/
Tell the World About This Post