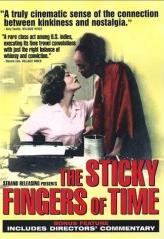 A writer, Tucker Harding, is hired to cover an article on the hydrogen-bomb test, Nevada, 1952. While there, radiation mutates her code/soul, spawning in her the ability to travel through time by force of will. Not long after she is murdered by a woman from the future, Ofelia, intent on securing her own ability to time travel. However, before her death Tucker travels to the year 1997 where she meets Drew, a failed writer who has been infected with Tuckers original mutation since birth.
Time travel can give you headaches Don't think too hard about it just watch it.
Buy Sticky Fingers of Time at Amazon.
Tell the World About This Post