Luvocracy.com is a Pinterest-like shopping site that's not all cracked up to be what it sells itself as.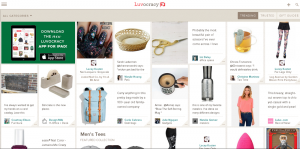 At first look at the site I cannot even figure out why anyone would shop there. The Pinterest-like layout is confusing and really only works if you aren't really even shopping. So why not just stick with Pinterest to browse for item you might find interesting and then go buy it from the actual store yourself?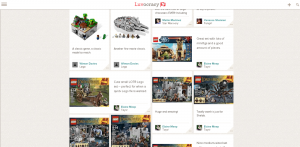 Don't like the jump from full screen to 4 columns either. 
Luvocracy says it will find the best price on the web for you. Trust me it does not do this. One of the first things I looked up was at full price and I know where I can get the same LEGO set at a huge discount on another site.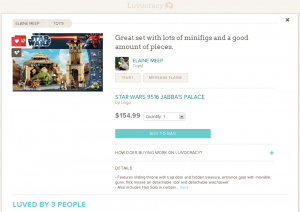 You never know where exactly they are purchasing the items for you. That's right they take your money then go and buy the item for you.
So say you wanted to buy the afore mentioned LEGO set. They take your money and buy it from a store they feel is on the up-and-up. Your card info is never given to that store, but you also lose out on any sales or other rewards that might be offered by the original store. LEGO.com has their VIP program. You get rewards points and they can add up to free LEGO sets. MANY MANY other stores do this as well.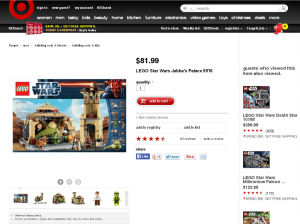 Same set $73 cheaper.
So Luvocracy says they will reward you too. But how and when?
You know they are making money off of your purchases some how and it is not always through affiliate links, but my guess is that has something to do with why they don't actually show the cheapest prices across the net. For that you are better off using a shopping comparison site where you actually see the different prices and can make the choice yourself.
So back to my LEGO set. They say the scour the internet for a lower price and then charge you that price (plus tax and shipping of course). So why blindly pay $154.99 for the Star Wars Jabba's Palace set (#9516) at Luvocracy and hope they will be honest and only charge you the, say, $95 (with shipping) from Target.com when they place the order for you? What rewards will Luvocracy give you that are better than then low price at the other site? Also right now Target is offering 20% off LEGO when you spend $100….would Luvocracy share that discount with you? Does Luvocracy use a RedCard to purchase and get free shipping and still charge you shipping?
I, personally, would prefer more transparency. Heck, I would prefer to just buy from another site instead of this odd Pinterest knock-off marketplace where you don't know what your getting, how much you're really playing, where it is coming from or when you will get it. Very odd that apparently hundreds (maybe even thousands) of consumers have jumped blindly onto this bandwagon. Not me.
Tell the World About This Post