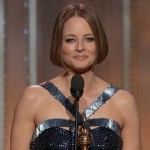 First off, I have to admit I did not watch the Golden Globes (I hate award shows), but was later "forced" into watching the Jodie Foster speech.
I am not sure why folks are thinking she came out in that speech. She came out a few years back in a speech. This speech was really a bunch of nonsense to be honest.
What I take away from it is Jodie trying to be funny and failing. Her main point seemed to be about privacy and for people to mind their own damn business without ever really getting straight to that point. (But maybe that was a comment about stuff too…she's not straight so how can she come straight to the point?)
Any who, let's just call this an epic speech fail and just say congrats for the award and next time hire writers (or better writers) for your speech.
Watch it for yourself.
Tell the World About This Post