As a kid I got a Merlin for Christmas or my birthday one year and I loved that game. I still have my original Merlin sadly one of the LED lights is burnt out. I will probably need to try and fix that at some point.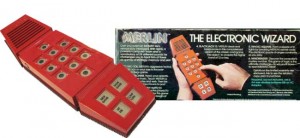 I spent so many hours playing with this game. I no longer have the manual but thanks to the wonders of the internet I was able to download it. So once I get that LED light fixed I will be able to relive my childhood.
I think there was a reissue of this game awhile back but it did not stick around like Simon did.
Some Merlin links
Tell the World About This Post