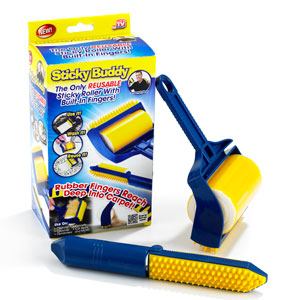 I just got a chance to try out the Sticky Buddy and while I am skeptical of ALL As Seen On TV products, I was pleasantly surprised by this one.
The Sticky Buddy quickly and easily removed all cat hair left by my three kitties on their favorite sleeping spots.
It was super easy to clean (just run it under warm water and rub the crud away)  and it was ready to use again after only a few quick shakes to get the water off.
No more buy adhesive hair removers to clog up landfills. Sticky Buddy does the job and comes back for more!
But wait! You also get a travel size Sticky Buddy with your purchase.