I am an admitted brickoholic.
This past month has been a whirlwind of LEGO buying and building. Started with the LEGO store's annual VIP event. Which is an invitation only event that I have been going to for the past 3 years now (guess because I buy so much from them…if only there was a way to get credit for all the sets I buy from Toys R Us and Target too). In the past we were given a discount at the register, so this year I had planned on buying the two big sets I have wanted for the past year but never got.  So as November neared an end I never got my invite from LEGO. I gave the store a call and I was on their list so they told me when it was and to come on in they would have my invitation there for me. YEAH!
So off I went had a grand time and met some great folks from DelVaLUG and a very nice BrickLink dealer who is starting up a blog. Got me some great LEGO sets and had some fun.
Afterwards I hopped online and joined the online forums for both PennLUG and DelVaLUG. Maybe I will start going to meetings and get to hang out with other AFOLs and learn a few tricks on building. Right now my attention is geared more toward LEGO trains. I have been setting up my 9 volt track under our tree for years and I want to expand it.
I bought my first [amazon_link id="B003A2JCR2″ target="_blank" ]remote controlled (power functions) train[/amazon_link] this month too and set it up under the tree at work. So I will have to find a way to work out the battery operated trains into my new train world. But I don't know if you can do good old fashioned steam locomotives or if it is just new-fangled trains that are big enough to house all the power functions gadgets.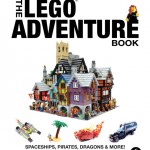 Also got a pretty cool book: [amazon_link id="1593275129″ target="_blank" ]The LEGO Adventure Book, Vol. 2: Spaceships, Pirates, Dragons & More![/amazon_link] Now I need to make me a TRAGON. That's a train dragon.
But wait the LEGO purchasing madness does not stop there. LEGO.com had a great black friday sale so I scooped up a bunch a storage boxes, a 2014 calendar, and a few sets. They should be arriving soon.
Yesterday, Target.com had a sale on LEGO sets so I grabbed a few there too. Now to find room for all of them and time to build them all!