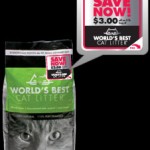 It really isn't just a self-aggrandizing name, it really is the World's Best Cat Litter.
I won a bag in a contest on Twitter and tried it out on our cats and I just loved it and so did the cats.
It is almost dustless, which was so nice when filling the box. No cloud of perfumed yuck flew up in my face.
Even without all the perfumes of other clumping litters it still kept the smell down too. Cat urine was almost undetectable when cleaning out the cat box.
The worst part was that it was only available at Petco or Petsmart which are not on my regular shopping routes.
It is now at Target and for a limited time there is a $3 off coupon on the 8 lb bags. Sweet! Now I can pick it up when I stop for a regular shopping trip instead of making a special trip to a specialty store.
Head on over to the World's Best Cat Litter's website for more information and to enter their contest to win a year's supply of litter & a $200 Target gift card. Good Luck!