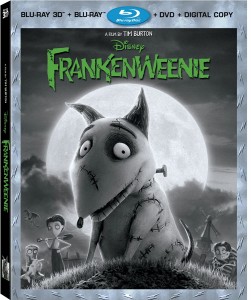 If you were like me and missed the movie in the theater (I am still kicking myself over that), you will be happy to hear that the arrival of this zombie doggy at your door is only weeks away.
Disney & Tim Burton have announced the Blu-ray & DVD release of the film on January 8th.
Again if you are like me, you will be adding this to your calendar to run out and pick it up on release date to save a few bucks and of course be able to finally get to see this film.
I love Tim Burton, his stop-motion animation and even his live motion short of Frankenweenie. What? You did not know Frankenweenie was originally a live action short film? Yep it was. In fact it appeared on the Nightmare Before Christmas DVD, but now you will be able to own it on the 4 disc Blu-ray set (which also includes the 3D version of the film)….Santa better remember to bring me my LG 3D TV I asked for.
Order your copy of [amazon_link id="B005LAIIA8″ target="_blank" ]Frankenweenie[/amazon_link] today and avoid the rush to the store 🙂
For some more Frankenweenie fun check out ScifiSlacker.com…