Yesterday when I went out to get my lunch I glanced at the newsstand where I saw an adorable kitty face looking back at me. Then I read the headline and I was simply heart broken.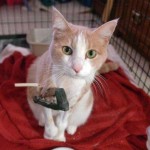 The kitty had been shot by some unknown assailant with a small caliber weapon or pellet gun. Shatter 11 bones in its upper leg. The kitty's name is Peanut and as I read her ordeal I immediately wanted to do something for her and her owner, Mrs. Hanick of West Chester.
Then I had a chance to speak to Mrs. Hanick and it simply reconfirmed my resolution to do something, anything, to help her out with this big vet bill.
The surgery has cost upwards of $2400 with more to come and more doctors visits and that's if the kitty stays healthy and strong. I am not even going to think about what would happen if the cat gets an infection. One day at a time (and this isn't even one of my cats). 86 year old Mrs. Hanick, who only wants the best for her feline companion, had to use her home equity loan to pay the vet bill. We cannot allow them to risk their home, can we?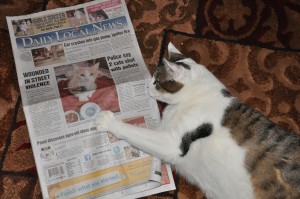 Boris and I work hard every day to raise money and awareness for charities, why we couldn't we do the same thing here? We went about setting up a Chip-In page where people can donate (big or small it all adds up) and we would make sure that Mrs. Hanick gets the money after our fund raising drive, which we set to end 11/26/2010. We wanted this is be a very thankful Thanksgiving.
After only one day we have already raised over $225 thanks to all Boris' online friends, known as anipals, and CatToys.com for a very sizable donation of $125! I hope that we will be able to really help out this nice lady and her hurt kitty cat.
Boris is actively blogging and tweeting to get the word out. Here are his posts (WARNING: these are written by Boris, who speaks kitteh).
The majority of the updates will be over on his blog and website, BorisKitty.com. Please consider donating something, anything. Thank you.