Christmas will be here in a few days then…It's almost time to say "thank you."
Who do you need to thank this year?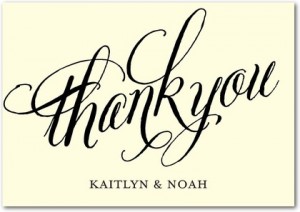 Your family, your boss, your spouse, your co-workers…anyone who got you a Christmas gift (or for whom you are thankful this year). In a week, it will be time to thank them for their wonderful (and even not so wonderful) gifts. Writing thank you notes seems to be a lost art.
Tiny Prints has the perfect way to say "thank you" at an incredible price. For one day only, from 10:00am PT today through 9:00am PT tomorrow, they are selling their amazing thank you cards at 50% Off!
These are not your average thank you cards either. They are pretty awesome. From the paper quality to the ability to personalize them with pictures and your own text, these cards are sure to leave a lasting impression…and maybe even result in a better gift next year. SWEET!
Check out Tiny Prints right away and say "thank you" in style this year. And remember to use promo code DOD1220 to save 50%! P.S.
You know you don't need a gift from someone to let them know you're thankful for them!