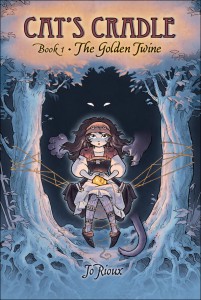 I first discovered Kids Can Press through the book Binky Takes Charge. I am loving this graphic novel for kids format they've got going with these two titles. I hope they keep it up and give kids a good healthy attitude for the medium.
I also like the anime feel of the art without being overly anime. It just seems like when anime became popular EVERYONE started drawing in that style and, quite frankly, I have had enough of it for now. The Golden Twine has an interesting story that draws you right away and keeps your attention (always good when your dealing with kids). This is only book one and I am already looking for book two. I want more.
Book Description
To most, Suri is just an orphan in a traveling caravan. But Suri is determined to prove she has the mettle of a monster tamer. When she unknowingly takes something valuable from a caitsith — a cat monster — she will have to quickly harness her powers … if she even has them!