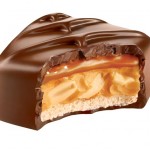 I had an opportunity to sample the new Snickers Peanut Butter candy bars, at least I would have if I wasn't allergic to peanuts! So I did a private sampling with all my co-workers and friends.
The overall opinion was that is was a very tasty candy bar. This only made me want to try it even more!
As you can see by the picture it has all the YUMMY goodness of a regular Snickers but the peanuts are surround by very tasty peanut butter.
I had a blast handing the new treats out on Halloween, but I really, really wanted to nom some for myself. Just look at all the fun everyone working with Snickers & SheSpeaks.com had…
So go ahead and taste them (they should be in stores now) and then stop by here and rub it in how yummy they are and how I don't get to eat any. Go ahead. I dare you.