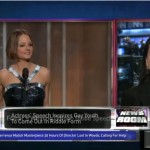 Straight from The Onion comes this video of how Jodie Foster's Golden Globe speech has inspired LGBT youth to come out in a very round about, vague sorta way.
I am thinking maybe Jodie wants to ask the writers at The Onion to writer her next speech. I think it would be funnier at least.
At least Jodie is getting a lot of internet play out of this and has inspired memes like this one. It will keep her in the spotlight for her return to acting. Wait she said she was retiring. Wait no she didn't. I am so confused.

Jodie Foster Inspires Teens To Come Out Using Vague, Rambling Riddles