Got a text message today telling me I won a $1000 Target gift card. YAY (if it were real). First off I never entered a contest secondly I knew this had to be a scam. So first thing I did when I hit the office was Google the phone number it came from — 323-636-8891. First thing to come up is a post about it being a scam. Check out a few more to confirm and it is definitely a scam. So if you get this text message (or anything telling you that you won something and asking you to click through to a website) don't click the links, don't reply (only tells them they have a good number) and DELETE the message off your phone.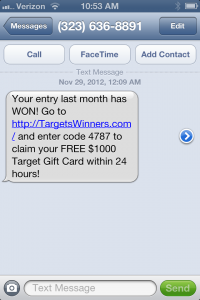 I then did a search for the website it was telling me to go to — TargetWinners.com and got more info and a few additional phone numbers that are sending out this crap. I wish it was easy to block phone numbers on my cell because half the known world would be blocked by now.
Two other people at work got this same text too. Just wanted you all to be on look out and not to be taken in during this crazy time of year.
It is bad enough we get all that SPAM in our email why bother us on our cell phones? Especially when most people have limited minutes and/or no text messaging (it cost them money).